It is said that in the early
19th century, a sailing ship named
El Balear
, with its home port in the Balearic islands, ran aground in the tract of sea at the southern end of the coast of Alghero.
To this day, the remains
of the ancient vessel still lie on the seabed.
The hotel is named after this doomed craft and
its unfortunate crew.
Just like a sailing ship, a hotel, too, is "constantly navigating": continuously operating, day and night, with the ongoing requirements for great food, comfortable surroundings and high-quality entertainment, and the same need to maintain good relations with all of the "passengers", including
the men and women of the "crew".
The building

This Mediterranean-style hotel was designed by renowned Paduan architect Antonio Simon Mossa and features fresh white walls that contrast ...
Read more
Location

A short, traffic-free, stress-free stroll takes you to the beach ... the delicate poetry of the sunset over the Capo Caccia promontory caresses you ...
Read more
Guest rooms

The hotel has 55 rooms, some of which have a sea view or a view over our perfectly maintained garden. The rooms feature every imaginable ...
Read more
For this reason, we like to think of ourselves
as old sea dogs who put our professionalism and expertise at your disposal to transform your stay in our hotel into a peaceful, enjoyable "crossing" that's all about relaxation and entertainment.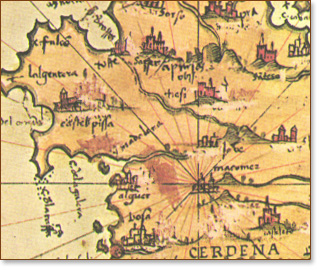 Bar and restaurant

The corner bar, with its adjacent open-air terrace, and the restaurant - both of which afford a sea view - ensure an exquisite dining and drinking ...
Read more
Business facilities

A comfortable, well-equipped meeting room.
The hotel's meeting room - which is the ideal venue for conferences, business meetings and training ...
Read more