The corner bar, with its adjacent open-air terrace, and the restaurant - both of which afford a sea view -
ensure an exquisite dining and drinking experience.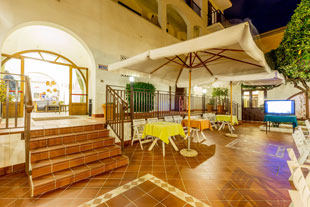 The terrace bar, a relaxing corner of the hotel
with a delightful sea view
The terrace bar is the
perfect place to sip a delicious cocktail or other refreshing drink
as you marvel at the sea view. It is also a very pleasant setting for business meetings,
or simply for some online surfing, thanks to our wireless network.
The
bar is open 24/7
, with alcoholic drinks available until midnight.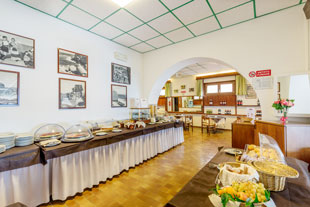 Delicious authentic cuisine, served against the backdrop
of the azure sea
The dining room is the heart of the gastronomic pleasure we offer our guests, and is the perfect venue for birthdays, anniversaries and other special events.
The large
panoramic windows afford fantastic sea views
- visible from every table - and the fresh, authentic dishes prepared by our chefs add up to a temptation that is hard to resist.
It all starts with breakfast... Every morning, we lay on a delicious sweet and savoury buffet, with coffee served at your table.
At lunch and dinner, we serve exquisite meat and fish dishes that are freshly prepared in next-to-no-time and all showcase the best local ingredients.
Our dishes are the result of our chefs' inspired re-casting of local culinary traditions, and we are also able to provide, on request, vegetarian and vegan menus and menus for coeliac sufferers.
These dishes are best accompanied by a great wine, chosen from our wide range produced by the island's best wineries.
An inviting plate of pasta with just-caught fish, a glass of excellent sparkling white wine, the sea before you... what better way to make the most of your holiday?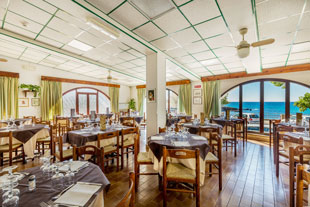 Accommodation packages
The restaurant service is available to those staying with us on half-board (HB) and full-board (FB) packages. An
à la carte
menu is also available to guests (and, on occasion, to non-guests).
For those on HB or FB packages, it is necessary to tell the staff each morning what you would like to eat that evening, selecting from four starters and three main courses. We also lay on an extensive buffet including salads, side-dishes and desserts.
If you take lunch outside the hotel, you can request a generous packed lunch from us.