Healthy outdoor activities for all sports lovers
Alghero offers the opportunity to engage in a wide range of outdoor activities.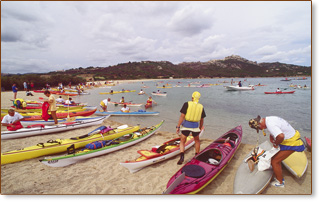 There's nothing more invigorating than getting involved in some
healthy physical activity immersed in the beauty of nature
, in contact with the invincible force of the sea, surrounded by stunning coastline and hillsides.
The most popular sports in Alghero include:
diving and snorkelling against the fantastic backdrop of the Marine Protected Area; sailing (with the option to hire boats of all sizes); windsurfing and kitesurfing amidst the wind and waves; canoeing along the miles and miles of spectacular coast; bicycle and mountain bike trails at various levels of difficulty; climbing up and along the sheer cliffs of the Capo Caccia promontory; tennis; golf; and then, of course, there are numerous panoramic hiking and trekking paths.
The "Le Ragnatele" Adventure Park - an aerial view
to make you shiver with excitement!
Alghero is all about adventurous enjoyment surrounded by nature.
The
acrobatic trails for adults and children
at the
"Le Ragnatele" Adventure Park
the first adventure park in Italy to be UNI-certified and the only one of its type in Sardinia - offer you an incredible opportunity: to put your physical ability to the test (alongside your sense of balance and your inner calm) by tackling the
"aerial walks" set at various heights between the treetops
. You can use everything from suspended platforms to steel ropes, rope bridges, cableways on pulleys, cords and ladders - whatever you are confident will get you safely to the other end!
Whichever method you choose, you will get
the chance to savour a very unusual panoramic view of the bay of the "Le Bombarde" beach,
one of the most striking beaches on the Riviera
del Corallo ("Coral Riviera").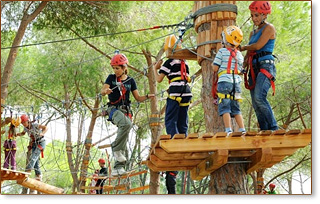 And, naturally, you'll have the pleasure of experiencing a revitalising shot of open-air excitement, enveloped by the lush aromas
of the pine trees and Mediterranean maquis,
in an extensive, 38,000m2 area that is also equipped for picnics and games.